Protecting the environment, people and the local community 
The north is our home and we look after it in all our activities. Sustainable operations are close to our heart. We value the fragile nature of Lapland and local communities. In addition to the environment, it is important to us to look after people – our staff and customers alike. We develop our corporate responsibility continuously and seek new ways to improve our operations.  
Looking after our personnel
To us, skilled, engaged, motivated, goal-oriented and satisfied personnel are the key. We invest in good management and measures designed to promote commitment to our operating culture. Our HR management is based on compliance with laws and regulations, and we determine our wages on the basis of the applicable collective agreements. It is important to us that our personnel enjoy a sense of well-being at work and leisure, and to ensure this we support sports and other leisure activities.  
Looking after our customers
To us, responsibility for the safety of our customers is not only the cornerstone of our operations but also our standout feature. All our guides are qualified, and they have attended first aid training. We continuously develop safety in our operations and implement new services to improve it. For example, we use a real-time map service in collaboration with the region's rescue operations. 
Fostering a balanced relationship with nature
We look after our natural surroundings and strive to foster a balanced relationship with nature by protecting the Arctic environment. We continuously develop new, environmentally friendly ways of operating. For example, we are involved in a project to develop snowmobiles that are safer and quieter and have lower emission levels. 
For our snowmobile safaris, we use vehicles with four-stroke engines with the market's lowest levels of emissions. We use the most environmentally friendly fuels and lubricants available. We have undertaken to offset all carbon dioxide emissions from our snowmobile safaris from 1 December 2019 onwards. We will offset our emissions by funding carbon sinks in collaboration with our partner Nordic Offset Oy.  The funds will be targeted at Gold Standard -certified projects supported by WWF.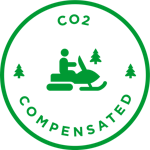 This label indicates that the carbon dioxide emissions generated by the safari are offset. 
We use green electricity that is generated using 100% water, wind or bioenergy, on all our premises. We procure electricity generated in line with the Guarantee of Origin system from our partner Loiste Energia. 
Our safaris always use official trails. We participate in the Animal Welfare -programme and have signed a collaboration agreement pertaining to the principles of sustainable nature tourism with Metsähallitus's nature services. We also support the circular economy by charting the further use of machines and snowmobiles and by recycling them. 
Appreciating local heritage
We have been in operation since 1982 – and have always operated locally. We value the local culture and communities. We are one of the operators in the area. Promoting year-round operations creates the foundations for sustainable development – it enables us to create permanent jobs in the long term, thereby contributing to the region's tax revenue and well-being. We show our appreciation for the region by paying our taxes in the area where we operate, by hiring locally and by using local service providers.
Introducing electric snowmobiles soon!
Bringing electric snowmobiles to the market is a natural step in Lapland Safaris' work towards experience services with lower emissions. Due to Covid-19 pandemic we were forced to postpone the introduction of the all new electric snowmobile fleet but working hard with our manufacturing partner to introduce the fleet for season 2022-23!
The selected electric snowmobile is well-suited for the Nordic climate. It fulfils strict safety criteria and has a low noise level. The battery's capacity is enough for safaris under 50 km. We are introducing electric snowmobile safaris as a completely new product in our selection as well as the option to change the internal combustion engine snowmobile to an electric snowmobile in selected safaris.
Towards responsible travel industry
Sustainable Travel Finland is a sustainable tourism program developed by Visit Finland. Companies that have completed the program and meet the demanding criteria are recognized with the Sustainable Travel Finland label. The label takes into account the economic, ecological, social and cultural sustainability of tourism companies and destinations.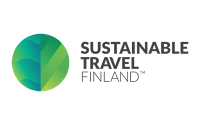 Our destinations with a Sustainable Travel Finland label:
Lapland Safaris Levi
Lapland Safaris Rovaniemi
Lapland Safaris Saariselkä
Lapland Safaris Luosto
Lapland Safaris Ylläs
Lapland Hotels Arena
Lapland Hotels Bulevardi
Lapland Hotels Bear´s Lodge
Lapland Hotels Hetta
Lapland hotels Kuopio
Lapland Hotels Luostotunturi
Lapland Hotels Olos
Lapland Hotels Oulu
Lapland Hotels Ounasvaara Chalets
Lapland Hotels Riekonlinna
Lapland Hotels Saaga
Lapland Hotels Sirkantähti
Lapland Hotels Sky Ounasvaara
Lapland Hotels SnowVillage
Lapland Hotels Tampere
Lapland Hotels Ylläskaltio
Lapland Hotels Äkäshotelli
Lapland Ski Resort Ounasvaara
Ski Resort Luosto
Ylläs Ski Resort, Äkäslompolo
Santa Claus Office
Lapland Husky Safaris Oy